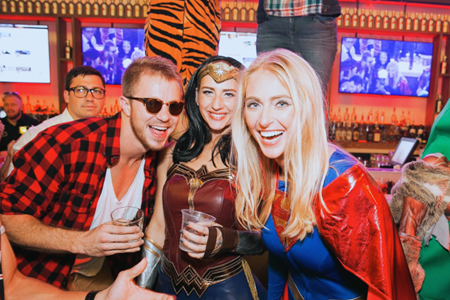 A Live!
Halloween Party
Heroes and Villains
👻 Things Are Getting Spooky at Live! 👻
We are bringing you a Heroes and Villains themed Halloween event to Live! at the Battery! Join us for a night of exhilarating suspense, where the forces of good clash with the shadows of evil in an epic showdown of costumes and fun. With a mix of some of your favorite music and memorable photo ops, you and your crew are in for a great time. Will you rise as the hero the party needs or revel in the allure of darkness? The choice is yours, but one thing's for certain – this is a Halloween event you won't want to miss!

Add yourself to our sign up list to receive first chance tickets, news, and more! Sign up HERE! 👈🏼
_________________________________________________________________

TICKET PACKAGES
General Admission

Entrance to the Event


Live! at The Battery will be closed to the public during this event. You must purchase a ticket to attend or pay door cover day of event.

Live! at the Battery Atlanta complies with all local and state laws, rules, and regulations. Please drink responsibly.