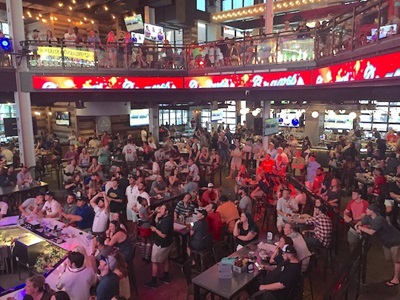 Best Restaurants in the Battery Atlanta
There are no shortage of eateries at the new Battery Atlanta. Besides being home to the Braves, there's a concert venue and plenty of shopping options. Here's where to dine when you're at the Battery Atlanta.
Disclosure: Our meals were complimentary at these Battery Atlanta restaurants.

For the Family – FEED Fried Chicken at the Battery Atlanta
If you just want some good ole' American fried chicken at reasonable prices, then FEED has got you covered. Their fried chicken comes from Springer Mountain Farms, which means they are raised with no hormones or antibiotics. Everything is made in house at FEED including their various house sauces and desserts like cobbler and banana pudding. Choose from regular Southern Fried (no heat), Atlanta Hot (medium), or Cluck'N Inferno (crazy hot). Plus, there are adult beverages including local craft brews, adult slushies and cocktails.
You can't go wrong with the Atlanta Hot Sandwich – $6, $8 for the meal (their version of Nashville Hot). This huge spicy chicken breast comes slathered with Alabama white sauce. It was the best thing we ate and one of their most popular items. However, if that's not your bag, you can customize things any way you want, ordering by the piece, white only, dark only or a bucket. If you are in agreement (all white or all dark) then go for the large which come with 2 pieces (breast and wing ($13 or leg and thigh $10.5).
Adults Only- Sports & Social at the Battery Atlanta
Keep the party going at Atlanta Sports and Social. One of the best features of this is the lovely upper deck patio. I was there for a Braves game during which a downpour started halfway through the game. Lucky for us, we checked out weather app and made a beeline for Sports and Social.
Note that the crowd here is mostly in their 20s. And it is LOUD. This is not the place for the kiddies or to have a conversation. With anyone. They do have a good selection of craft beer. Expect mostly bar food here, but the burgers are quite satisfying, being two 4 oz patties on a brioche bun. Most burgers are around $12. I recommend the BBQ Brisket or Guacamole queso burger.
Fit for foodies – Todd English Tavern
Back in the spring, I was invited to the opening of Todd English Tavern. It was my first foray into dining at the Battery Atlanta and I was especially excited being a huge fan of Chef Todd English. While I knew the food would be excellent, what I didn't expect was that Todd English himself would be there preparing food!

Todd English Tavern's twist on shrimp and grits is served with polenta instead of grits (see below). There are also several flatbreads to choose from like the Duck Prosciutto. Of course, there are heartier items like the Roasted Snapper or Flank Steak. Rest assured, it's hard to make a bad choice here.
For Oenophiles – CRU Food & Wine Bar
I haven't seen many people ever drinking wine during a baseball game. Do they even serve it at games? Well if you want to taste some delicious wines before or after the game or off season, like I did, head over to CRU Food & Wine Bar. They offer three, 2 oz pours of various varieties, including a eight different red and about five different whites and one rosé. I chose the "Sexy Reds" flight and loved a Chilean Carménère. Flights are as low as $11 and as much as $23 for the "Benchmark Cabs." Sampling one of my friend's reds from the "Marvelous Merlot" section, I ordered a full glass of one of the Napa Valley Merlots.
CRU has launched a new lunch menu, which includes items like Lobster Pot Stickers (my favorite) and a bruschetta with figs. Those are excellent starters that would go well with a flight of whites or even a light grouping of reds like Pinot Noir. For my main, I chose the crab and avocado sandwich (above right). Rather than a full sandwich, it was served more like the bruschetta and a side of arugula. The light lunch was perfect and didn't leave me feeling sluggish the rest of the afternoon.
Note that it is free parking at the Battery Atlanta for up to four hours when no events are happening. It is two hours free during events like concerts and then $20.
Article by Malika Bowling | Roamlicious