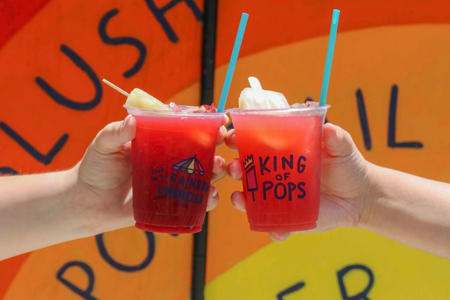 What To Do in
Atlanta When the
Heat Gets
Unbearable
Things You Can Still Do in Atlanta When the Heat Gets Unbearable
Don't say it, don't say it. OK fine, Hotlanta is really living up to its name lately. There's a reason we gained the terrible nickname that's been relegated to out-of-towners, and that's because summer in Atlanta sure is hot.

But even when the summer months roll around and we regularly push toward to triple-digit mark, there's no summer slump here. Atlanta is full of fun things to do to beat the heat, from sipping a cold drink or plunging into a pool to hiding away from the summer swelter in a local museum.
Head to a summer festival at Live! At the Battery
Live! At the Battery, the oversized food and drink destination at The Battery, plays host to a handful of festivals throughout the summer to bring Atlantans together (without making you sweat). Marg & Taco Fest takes place on July 22, and the name really does say it all. Expect chilled margaritas and plenty of tacos served by local food trucks, booths, and restaurants, all while dancing to live music. The Atlanta Wine Walk on August 12 is the fourth annual event where you can taste through dozens of different wines in one place. Then Brew Fest takes over on August 26, offering a similar tasting extravaganza—this time with plenty of beer on site.