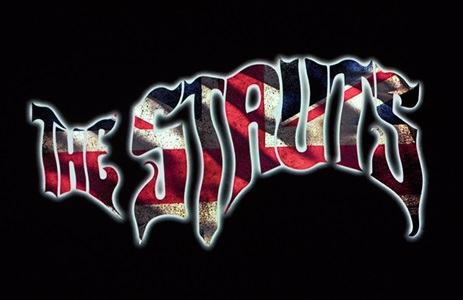 The Struts Kick Off 2018 with Atlanta Show
The Struts came back to Atlanta for their first show of 2018, and what a show it was. Fans braved the cold weather to come out to Sport & Social/Live! At the Battery Atlanta for the free show. It was a different type venue for the The Struts, who've been known to play to a crowd of 80,000… a self-defined "sports bar, gaming parlor and social lounge," but it worked for this intimate gathering. The stage was front and center, and bars were scattered throughout. A second level allowed for up-top viewing. Die-hard fans and members of the fan club "Strutters" showed up hours ahead of the "7pm doors open" call to show their support and take their spot at the rail in the venue's "pit" area. By the time the show started at 9:30pm, the place was packed.
The UK-based band consists of lead singer Luke Spiller, guitarist Adam Slack, bass player Jed Elliott, and on the drums, Gethin Davies. Last year consisted of non-stop touring and as well as the release of the single, "One Night Only." Spiller describes their onstage presence as "something big, fun, unapologetic, rock & roll," and as anyone who has attended one of their shows will tell you, they deliver.
The Struts are known for their high energy, dance and sing along shows with some sequins and glam mixed in. It's not just a concert: it's an experience. One that pulls you in, has you dancing and singing, and hugging the person next to you. Last night's show was no different. Spiller opened with crowd favorite "Put Your Hands Up," closed with "Could Have Been Me," and performed "Where Did She Go" for an encore. Fans were treated to covers of The Rolling Stones' "Jumping Jack Flash" and David Bowie's "Rebel Rebel," and a sing-along of "Let's Make This Happen Tonight."
It was a perfect start to the new year, and if you haven't already treated yourself to one of their shows, make sure to put it on your list. You won't regret it!
Cheers!
Jo x
Article by Joanna B | The Girls at the Rock Show